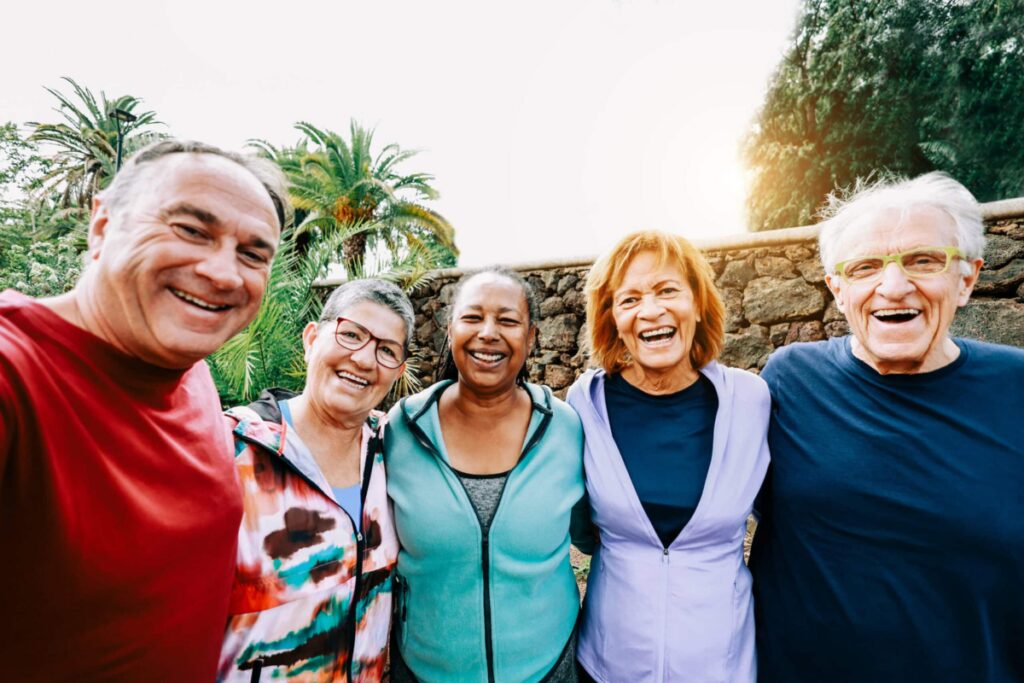 If you're looking at senior living options for yourself or a loved one, you may be unfamiliar with the many benefits a community can offer. Families are often surprised at the features and services that are available to support an active and engaged lifestyle.
You may also be unaware of just how different each senior living community can be. How do you decide, then? The key is defining the features and amenities that would support a desired lifestyle and then making sure the community you decide to call home can meet those expectations.
We think Tenfold's Bruceville Point is a perfect example of a senior living community that exceeds what our residents are searching for.
Standard senior living features
The following are standard features you'll likely find in the senior living communities you visit:
Accessible residences
Many houses in the U.S. were not built with aging in mind. However, senior living residences are move-in ready and designed to be accessible and age-friendly. They can also be personalized to create your new home.
Assistance with daily tasks
As we grow older, a helping hand might be needed with the basic tasks of daily living, such as bathing, dressing or grooming. Senior living communities provide a trained staff to assist the residents when desired.
Healthy dining programs
Eating well is just as essential as we grow older although it can become more difficult to accomplish. Communities provide healthy dining programs and meet a resident's dietary restrictions.
Activities and social events
Boredom or becoming sedentary can create a negative impact on both physical and emotional health. Senior living communities provide a calendar of activities and opportunities to interact with the other residents.
Fitness possibilities
Setting and reaching wellness goals are key in aging and living well. Although the opportunities can become more elusive when living at home, a community will typically provide a fitness center or classes for the residents to use.
Transportation
When driving is no longer possible, people can become socially isolated, especially if there are few transportation alternatives. A community will provide transportation for medical appointments and scheduled trips for shopping or entertainment.
Safety and security
We can experience increased anxiety or fear as we grow older, particularly if living at home alone. Senior living provides security alarms in both the community and personal residences – as well as the reassurance that someone is available when needed.
Why Bruceville Point? Senior living lifestyle and design features that set us apart
Bruceville Point doesn't stop at the basic features listed above. Take a look at what makes us different and how this influences the quality of life for our residents:
We help create a genuine home
For our residents, home is a haven that welcomes them every time they walk through the door. At Bruceville Point, we designed our spacious residences to allow for entertaining friends and family and celebrating life's most wonderful moments.
We take our cues from the residents
Our focus at Bruceville Point is to make sure our residents know they are where they belong. They have a clear and strong voice and influence daily life by contributing ideas and suggestions – not only for the type of activities they would enjoy but those that help shape our community.
The delicious choices at mealtime
When moving to a community, where and what to have for dinner may not be part of the daily conversation. But it is at Bruceville Point. We offer chef-prepared menu selections and listen to our residents' suggestions for favorites or new ideas. We offer three venues to enjoy dining – and we plan special dinner trips to offer a taste of something new.
Activities and adventures for the whole family
Have you ever wanted to try your hand at beekeeping? How about taking a spin on a paddleboard? Take a look at everything Bruceville Point has to offer and you'll find options created that are way outside of the typical senior living box. If you don't see something you'd like, all you need to do is ask. We also create opportunities so your family can join in the fun.
Facing the future together
At Bruceville Point, we encourage our residents to actively remain engaged in life and with each other. We understand that growing older can present challenges but that it's also reassuring to know you have people you can talk to and share your experiences. The days ahead can be filled with new adventures and we're here to support your journey.
Discover Life at Tenfold's Bruceville Point 
We created Bruceville Point to support our residents to live their best lives possible. Our community's design, residences, activities and amenities are all focused on helping to connect, engage and create an enriched life.
If you're searching for senior living that is different from the rest, we hope you will consider Tenfold's Bruceville Point. Contact us to speak to an advisor, or schedule your tour of Bruceville Point today to experience senior living and our community for yourself.
Considering a move to a senior living community for yourself or a loved one? Download our free guide, Family Decision Toolkit: Your A–Z Guide To Choosing The Right Senior Living Community.