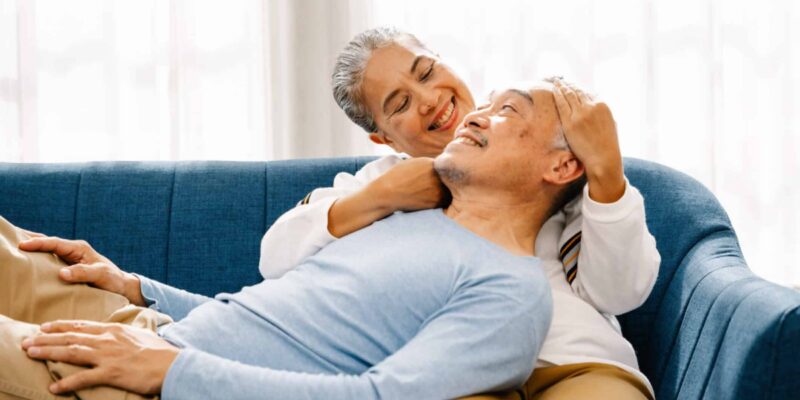 You know you want to continue living an active and engaged life. You're determined to maintain your independence. You might also be looking forward to sharing your adventures with new lifelong friends.
If you're considering the services and amenities a senior living community offers, moving may also be in your future.
A private and age-friendly residence
Assistance with tasks of daily living
Healthy dining programs
Activities and social events
Fitness and exercise opportunities
Scheduled transportation
Safety and security features
Yet, many mistakenly deny themselves access to these wonderful benefits because they don't yet need assistance.
If your question is, at what age should you launch your new lifestyle at a community that provides everything you need to live your best life, our answer is:
What are you waiting for?
Senior Living as a Lifestyle Choice
Today's residents don't want to wait. They choose their senior living community based on lifestyle choices, not necessarily because they need help. They've discovered that delaying the move means missing out on the advantages – and there are many.
While families may think they should wait until services are needed, the best senior living communities also offer opportunities to live a high-quality life. The earlier the move-in date, the sooner residents can enjoy all the advantages.
Advantages of Senior Living
Take a moment to consider the following benefits at Tenfold's Bruceville Point. We think you'll quickly decide that this is the perfect place to support the future you've long imagined:
1. A custom lifestyle
Whether you enjoy a quiet conversation with friends or participating in the fun activities created by our residents and activity director, we invite you to discover the luxury of creating your own perfect lifestyle. At Bruceville Point, the innovative options filling our monthly activity calendars offer something for everyone.
Enjoying our beautiful outdoor spaces, hosting a family celebration in your spacious apartment or gathering with friends for dinner – it's always your choice. As our residents like to say, if you don't see what you like, all you have to do is let us know.
2. Expand your existing world
At Bruceville Point, our view of senior living extends far beyond providing quality assistance to help our residents. We see senior living as an opportunity to expand your world. That's why we encourage you not to wait to become a vibrant member of our community.
Our focus is on supporting residents to feel YOUTHFUL, stay USEFUL, be SPONTANEOUS and remain MOBILE. This philosophy that we call YUSM influences all the services and amenities we offer.
3. Benefits extended to the families
With all of the advantages that our residents experience, at Bruceville Point we also strongly value the families. Often, a move into a senior living community is based on the needs of the individual alone, but families also greatly benefit.
True peace of mind is experienced when everyone knows their loved ones are well cared for and attended to. Helping to lift the weight of responsibility, we partner with families to provide the highest level of care and quality of life.
The Question to Ask When Considering Senior Living
Residents of top-of-the-line senior living communities often comment that they wish they hadn't waited so long when making the decision to move.
At Bruceville Point, we're confident that your only regret might be that you didn't move here sooner. While we provide excellent services and amenities for our residents who may need a helping hand, we are also here to support those who are ready to prioritize the creation of a full and meaningful life.
Those who choose Bruceville Point quickly discover a welcoming home to meet and make new friends, participate in fun and stimulating activities, achieve their wellness goals with a tailored fitness routine and enjoy delicious dining at one of our three venues.
Since that is only the beginning of what senior living offers, our answer to the question of when best to consider senior living is – what are you waiting for?
Contact us to speak to an advisor, or schedule your tour of Bruceville Point today to experience senior living and our community for yourself.
Considering a move to a senior living community for yourself or a loved one? Download our free guide, Family Decision Toolkit: Your A–Z Guide To Choosing The Right Senior Living Community.