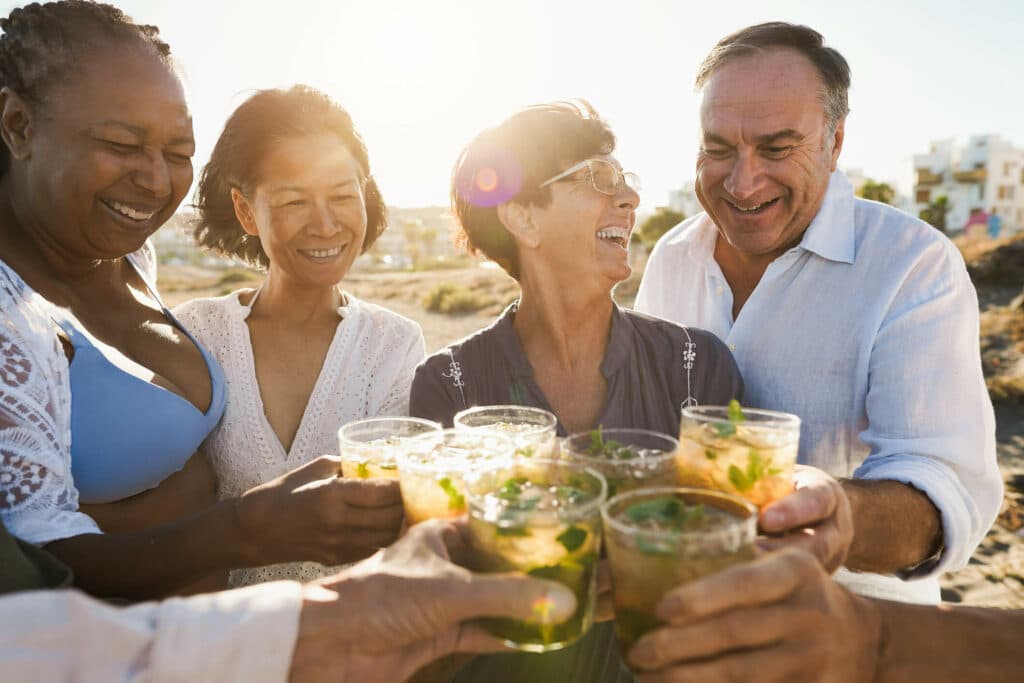 If you're like many retirees, you may be searching for a lifestyle that offers maintenance-free living, the convenience of on-site activities, fitness classes and dining – as well as the opportunity to create new and lasting friendships.
In other words – an independent living community.
If you're unaware of everything independent living has to offer, it's a form of senior housing with access to activities and amenities. It often exists in an unlicensed environment where there are no services, such as those you might find in an assisted living community.
Independent living is usually age restricted and includes private residences. The opportunities to create new friendships are a significant benefit. Communities make socializing and sharing stories natural and easy.
However, there are several variations within independent living communities. If you're asking the question, "what is independent living?", the following can help differentiate the specific types you might find.
What Is Independent Living?
1. It can occur in your home…
For example, you might be living independently in your existing home. This may require repairs or renovations to create accessibility. You will also be responsible for arranging all activities, fitness classes and social events to remain engaged. You may also find yourself trying to locate or arrange outside services if assistance with daily tasks becomes necessary.
2. It can occur in a retirement community…
Another example of independent living is to move into a retirement community, a.k.a. a 55-plus or active adult retirement community in your area where you'll likely find private apartments, a monthly calendar of activities, dining options and possible transportation. However, one drawback is if you discover that help is needed with changing health or personal care, you may be required to find yet another community and move again.
3. It can occur in a senior living community
There is a third type of independent living that offers accessible residences, activities, amenities and dining but goes a step further. Imagine moving into a community where you can personalize your home to make it your own, make many good friends and share activities while being fully supported in creating the type of lifestyle you desire. But there is also an additional benefit: you won't need to move again if your health needs change. You won't even have to leave your apartment to move into another building. Because these are independent living communities that are in the same building or on the same campus as an assisted living community, they can bring assisted living services to you.
Tenfold's Bruceville Point is that kind of independent living community.
What Is Independent Living at Bruceville Point?
Take a look at what we offer and the quality of our services and choices.
1. A real home
Tenfold communities believe home provides a solid foundation. Because you have traded in homeownership headaches such as maintenance and upkeep for an easier lifestyle, this shouldn't mean you can no longer entertain friends or host family dinners. At Bruceville Point, you'll discover full-sized kitchens and living spaces that can accommodate sectionals and your dining table.
2. Support to live an independent lifestyle
When asking what independent living is at Bruceville Point, you'll be happy to know you won't need to relinquish your independence. Our focus is on providing residents with lots of options and alternatives and then stepping back to play a supportive role. The choices of how to spend your day or what events to join in are all up to you.
3. Engaging activities
If you're thinking that old-school senior living activities are all that will be available, you need to visit us at Bruceville Point. Our full-time activities director not only pushes the envelope but works with the residents to turn their suggestions into reality. Sign up to join us so you can experience first-hand what daily fun we have.
4. Opportunities to create genuine friendships
What is independent living at Bruceville Point? The enjoyment of sharing your experiences and stories with family and friends. It has never been easier to create new relationships. Activities, social events, state-of-the-art theater, art studio, attending a lecture or watching a movie together are only a few opportunities.
5. First-class fitness center
So much of retirement life is pleasurable but smart retirees also know that taking care of their physical and mental health greatly contributes to an enriched and meaningful life. At Bruceville Point, we offer a fitness center for individual workouts or classes that are specifically designed for older adults. You'll soon be meeting all of your wellness goals.
6. Delicious dining options
It's difficult to get excited if faced with the same menu choices every day. After a lifetime of planning and preparing meals, consider letting someone else take over the kitchen responsibilities. At Bruceville Point's independent living, we offer three different dining venues, so you have many choices about the setting as well as delicious menu selections.
Discover Life at Tenfold's Bruceville Point 
We created Bruceville Point to support our residents to live their best lives possible. Our community's design, residences, activities and amenities are all focused on helping to connect, engage and create an enriched life.
If you're searching for senior living that is different from the rest, we hope you will consider Tenfold's Bruceville Point. We invite you to download our complimentary guide Staying Home vs. Senior Living. Contact us to speak to an advisor, or schedule your tour of Bruceville Point today to experience senior living and our community for yourself.