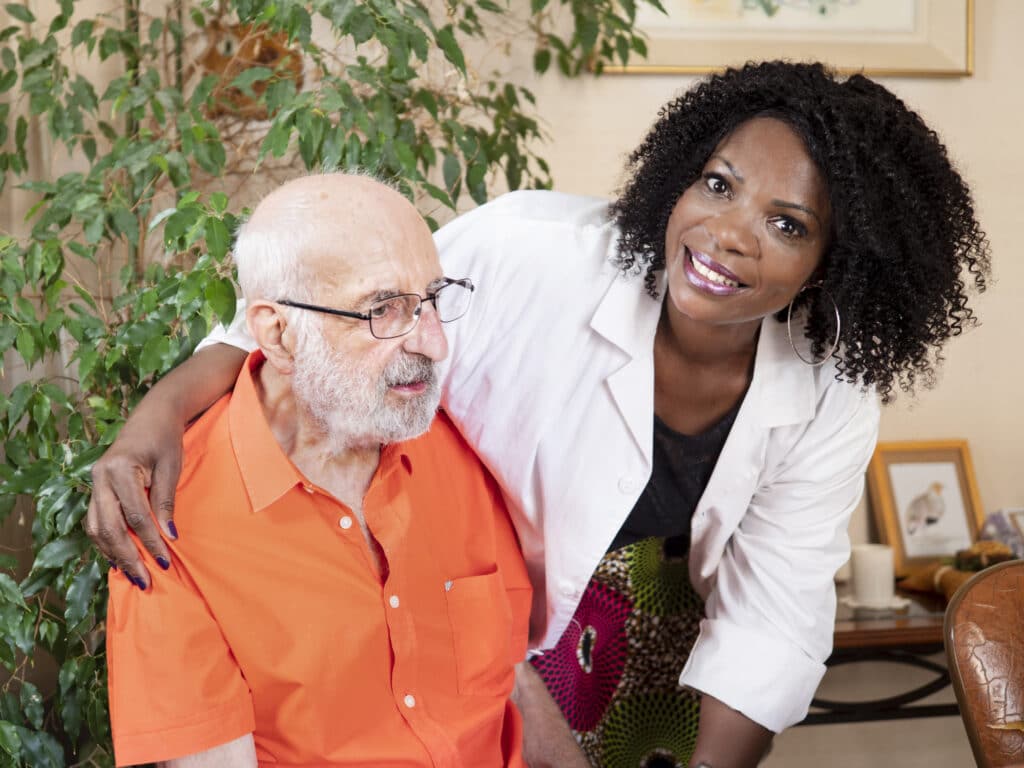 Imagine a lifestyle where your independence is not only supported but celebrated. Days filled with choices – whether it's an exciting activity, meeting friends for lunch or sharing a good book under the shade of a lovely tree.
If you are considering the advantages of senior living for you or a loved one and are searching for the kind of life that is elevated by creative possibilities and spontaneity, you will likely discover that not all communities are the same.
If help is needed with the daily tasks of life, your search may also include assisted living communities. While similar services may be offered, you'll want to discover how one community redefines assisted living – as a service – not a place. The difference can greatly influence the quality of life.
Senior Living in a Tenfold Community
If you haven't yet discovered our community, we view senior living differently at Tenfold's Bruceville Point. Our residents make their home in a beautiful and spacious apartment that is truly designed to promote their independence and joy of daily life.
There is no sacrifice in quality when you or a loved one choose our community. Our residences are designed so you can still bring your full-sized dining set and sectional for entertaining and hosting family celebrations.
You'll get to know your neighbors at our unique and fun activities and the friendly faces of our staff will soon become the familiar smiles you'll see each day.
Discover more with our free Family Decision Toolkit!
Defining Assisted Living at Bruceville Point
We also understand that older adults want to be prepared if their health needs change in the future. If assistance is required, traditionally residents would have to pack up once again and move to another building or community.
That is why we created a different approach for providing assisted living services to our residents – that not only supports them with the help they need but also provides the respect and continuity that they so richly deserve.
Setting Bruceville Point apart from many other senior living communities is that we offer assisted living as a service, not as a place. What this means for our residents is that they won't need to move from their independent living apartment home to receive assistance.
Imagine the reassurance of knowing that a member of our team will discreetly assist your loved ones as needed, in the privacy of their home, where they are comfortable and will be able to continue living a most fulfilled and independent life.
Additional Benefits of Bruceville Point's Assisted Living as a Service
Families appreciate their loved ones being able to remain in their home and the advantages that familiarity brings.
Along with the additional services of assisted living, it's reassuring to know there is another set of eyes keeping watch over your loved ones.
The responsibility of managing a loved one's assisted care is lifted by our professionally and compassionately trained team. Families won't need to determine the type of care that might be needed, search for the right care agency and then manage that care.
The time to manage a loved one's care is often underestimated. Many adult children discover they can either oversee the care or enjoy each other – but rarely is there time to do both.
As a licensed community, our assisted living as a service program includes health assessments and creating care plans. We hire and train our staff and manage all quality control.
Bruceville Point's assisted living as a service is available for either the long or short term. If you or a loved one is ready to be discharged from the hospital after surgery or recovering from an injury but is not yet ready to return home, we can provide assistive services for as long as they may be needed.
Tenfold Senior Living is here to help you through your journey to find the best place that fits your needs and those of your loved one. To learn more about our unique "Assisted Living as a Service" approach to providing personalized care to our residents, contact us to speak to an advisor. Or, schedule your tour of Bruceville Point today to experience our community for yourself.
Considering a move to a senior living community for yourself or a loved one? Download our free guide, Family Decision Toolkit: Your A–Z Guide To Choosing The Right Senior Living Community.