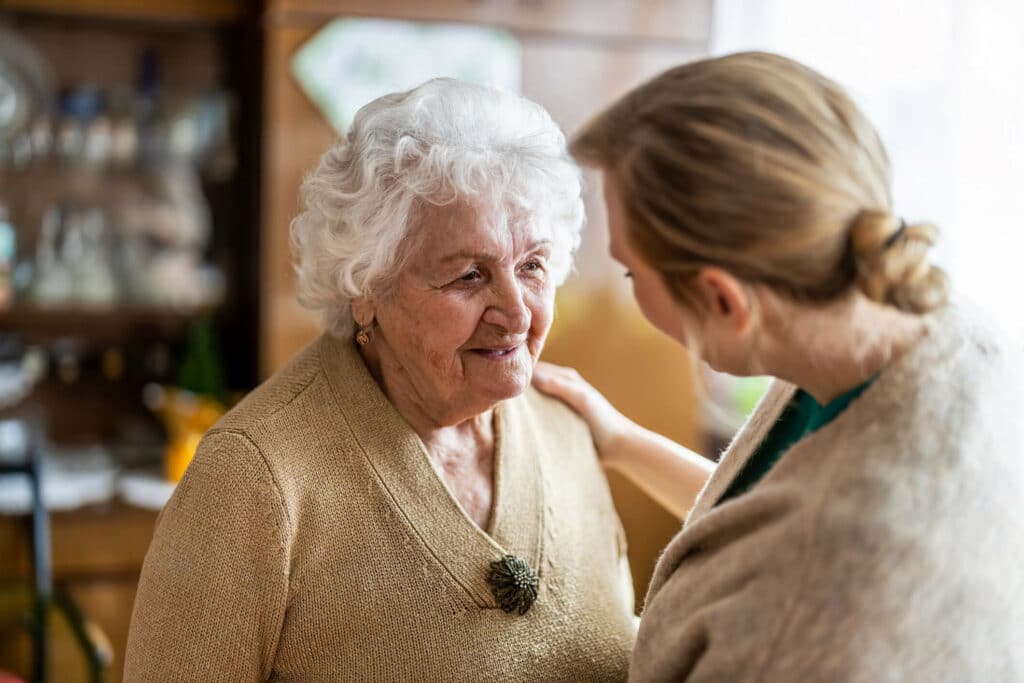 Two events often trigger a family's search for a memory care community – discovering that quality of life is declining for a loved one, or when the care needs begin to exceed what can be provided at home.
While choosing a community can be a daunting task, knowing which questions to ask and the features to look for can help open the door to the right memory care community.
Memory Care Questions to Ask
At Bruceville Point's Harbor Memory Care, we explore how to support our memory care residents to get the most out of life. When considering communities, the answers to the following questions may provide insight to help you achieve the same for your loved one.
1. How does the community create a welcoming home?
Memory care questions to ask: Does the community provide a welcoming atmosphere? Are there secure spaces where residents can move freely yet are safe from wandering or becoming lost? Are residences comfortable and allowed to be personalized?
Answers at Harbor Memory Care: We're a vibrant community and encourage quality of life and independence by promoting choices – how to spend the day, menu selections and activity options are only a few. Our community is designed for safety but also freedom of movement without feeling restricted.
2. How will the community help your loved one feel at home?
Memory care questions to ask: How are new residents supported to make the transition? Does the same staff provide care to ensure familiarity and does the design and layout create a comfortable and navigable area.
Answers at Harbor Memory Care: We assess and create a clear care plan. Because we offer only 20 apartments, we're also able to get to know their preferences and needs. Staff and residents form close and trusting relationships. We don't promote separation of our memory care residents from others but encourage interaction.
3. What is the staff-to-resident ratio and training received?
Memory care questions to ask: Does the staff-to-resident ratio allow timely responses from the care team? Ask about the type of training the staff receive and if they specialize in the latest dementia practices.
Answers at Harbor Memory Care: We invite you to visit and see for yourself how we adapt to our residents instead of imposing restrictions or activities that fit our schedule. Our residents influence the dynamics of our community, and we shift always to meet their needs.
4. Does the community offer the level of services needed?
Memory care questions to ask: Can other care needs be met that are outside of those resulting from dementia, such as chronic conditions or mobility issues? Are there physical or cognitive conditions that cannot be accommodated?
Answers at Harbor Memory Care: We go beyond assistive services for daily needs and supporting residents with dining. We recognize individuals are not defined by their disease. All of the activities, programs and amenities offered to our other residents are available to those living in memory care. Our Memory Care Director can talk with you about what our retention limitations are if your loved one develops certain physical or cognitive conditions. We always want to ensure your loved one is in the best environment where they will thrive.
5. What security measures are taken to keep the residents safe?
Memory care questions to ask: With a higher risk for wandering or becoming lost, you'll want to discuss how the community keeps the residents safe without frustrating them with restrictions on movement or limited activity choices.
Answers at Harbor Memory Care: Wherever you live is home and it's the same for our memory care residents. And while we appreciate safety, we also prioritize the discovery of joy in life – whether through activities in our community or exploring adventures during off-site field trips.
6. What type of specialized activities and therapy programs are offered?
Memory care questions to ask: What programs are available and can they be tailored to align with your loved one's needs and preferences? How does the community encourage interacting with others?
Answers at Harbor Memory Care: Whether enjoying music or pet therapy, gardening or an outing to the museum, we never limit our residents by assumptions made about dementia and capabilities.
We're known for thinking outside of the box when it comes to events and adventures and believe our memory care residents can do everything our other residents do – even if a little differently.
Discover Life at Tenfold's Bruceville Point 
We created Bruceville Point to support our residents to live their best life possible. Our community's design, residences, activities and amenities are all focused on assisting them to meet their lifestyle and wellness goals.
From the first moment you visit a Tenfold community, we believe you will immediately recognize what makes us different.
Discover the YUSM lifestyle
We believe the highest quality of life is created when our residents are supported to feel YOUTHFUL, stay USEFUL, be SPONTANEOUS and remain MOBILE. You'll see evidence every day in how our care, services and amenities are all influenced by the strong philosophy we created that we call YUSM.
If you're considering senior living for yourself or a family member, we're here to answer any of your questions and we invite you to download our complimentary guide, Just the Facts: Your Guide to Memory Care.
Please contact us if you'd like more information or to schedule a personalized tour.
We hope you'll visit Bruceville Point, where you'll discover we're a different style of senior living – and it's all by design.