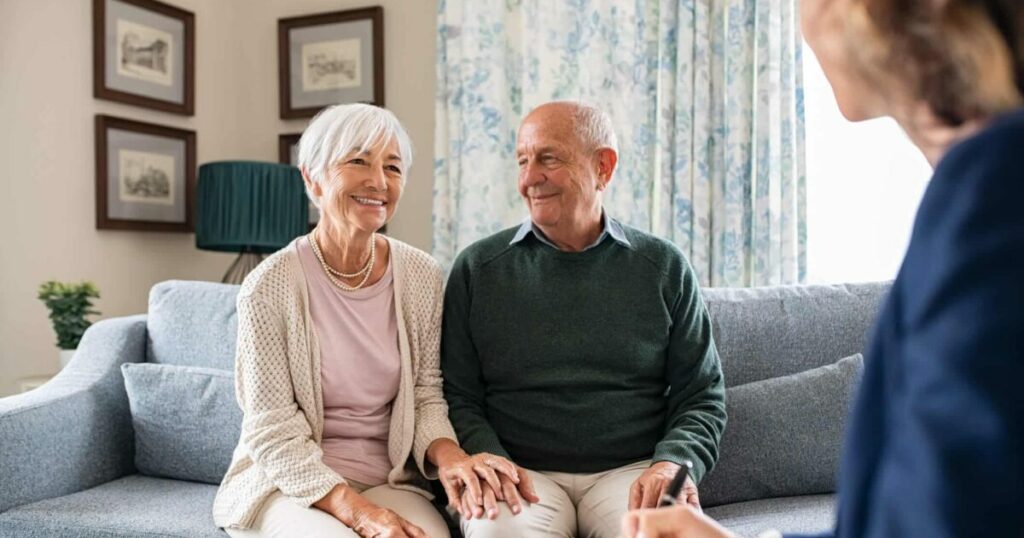 If you're looking for a high quality of life, you may have only recently discovered the possibilities that an independent living community has to offer. You might be learning about the activities, social opportunities and the convenience that this maintenance-free lifestyle has to offer.
Of course, before you make a decision, you'll want to tour a few independent living communities to see for yourself. We'd like to invite you to visit us at Bruceville Point, where you'll likely find our residents tend to be individuals who feel strongly about staying active and engaged. They are not willing to settle for less and they work with us to create the type of community that supports this independent lifestyle.
If you are new to exploring all that an independent living community can offer, the following can guide you when touring so you have a better idea of what to look for and what questions to ask to make a well-informed decision.
10 features to look for when touring independent living communities
Everyone's preferences can be different so it's essential to consider what is most important to you. The following are 10 of the more common features and questions you may want to ask when touring independent living communities – and a brief description of how Bruceville Point provides the answer.
1. Residences
Is there a selection of floorplans and sizes? Does the space feel like it could be home?
Bruceville Pointe offers spacious apartments that have room for you to bring a full-sized sectional and dining table. The large kitchen, walk-in closets and full-sized washer and dryer will quickly make you feel right at home.
2. Social opportunities
How does the community help new residents feel welcomed and part of the group?
We offer so many social events and activities for you to naturally meet your neighbors and the other residents. Friendships are guaranteed – almost – as soon as you move in.
3. Amenities
When touring an independent living community, you'll want to ask what type of amenities are available and ensure they are of interest.
Bruceville Point prides itself on keeping our amenities up-to-date and supportive of our residents' lifestyles. We also love it when they contribute ideas, and we can put them into action.
4. Fitness classes
Is there a fitness center or classes to help meet your wellness goals? Is there instruction on safe exercises for older adults?
We offer a dedicated fitness center and director who works with all of our residents to ensure they have a healthy exercise routine and are supported to reach their goals.
5. Dining and menu choices
Be sure to ask about the dining choices and menus when touring independent living communities.
At Bruceville Point you'll find three different venues which are sure to satisfy your cravings or mood. Our menus are healthy and delicious, offering some of the best selections you'll find at any senior living community, and our chefs can provide meals that meet any diet restrictions.
Download our complimentary guide,
6. Outdoor spaces
You live in California, so you'll want to take advantage of our wonderful weather. Ask to visit the outdoor spaces and see if they're appealing.
The spaces are amazing at Bruceville Point and give our residents many opportunities to enjoy the fresh air. The outdoor living and dining rooms, raised planter gardens and pet-friendly areas are only a few of the advantages you'll discover when you tour our independent living community.
7. Activities and adventures
Ask about the activities the community provides and take a look at their monthly calendar to make sure there are areas of interest.
At Bruceville Point, we take the team approach and push the envelope a little so we can provide interesting, stimulating and adventurous activities. Our residents often put in requests, and we love being able to deliver.
8. Resident inclusivity
When touring independent living communities, ask if residents are encouraged to participate in community matters and elements of daily life.
At Bruceville Point, we enthusiastically invite our residents to be active in creating their own community. We believe in providing the best opportunities for our residents to engage and thrive in life – and then we step out of their way and support their aspirations.
9. Assistive services
Ask about any options a community could provide if your health needs changed in the future or if you would need to move to an assisted living community.
We are a licensed community at Bruceville Point, so we are able to conduct assessments for our residents' needs and provide personal services. What makes us different? You won't need to move as we provide these services discreetly in your apartment.
10. A "youthful, useful, spontaneous and mobile" philosophy
Ask about the community's philosophy of helping their residents remain youthful, useful, spontaneous and mobile when you're touring a community.
At Bruceville Point, we coined the phrase Youthful, Useful, Spontaneous and Mobile because we believe these are the cornerstones of a high quality of life. We support our residents to achieve their best.
Discover Life at Tenfold's Bruceville Point 
We created Bruceville Point to support our residents to live their best lives possible. Our community's design, residences, activities and amenities are all focused on helping to connect, engage and create an enriched life.
If you're searching for senior living that is different from the rest, we hope you will consider Tenfold's Bruceville Point. We invite you to download our complimentary guide Staying Home vs. Senior Living. Contact us to speak to an advisor, or schedule your tour of Bruceville Point today to experience senior living and our community for yourself.